For some writing a weekly diatribe about a chosen subject can be a chore and admittedly some weeks I do sit down rather less enthused about this post than I should, however each week I am reminded of just why I really enjoy writing these little side tracks.
And that is that it forces me to think critically about my films and to think critically about film and photography in general, the problem with coming out of a degree is that (especially creative degree graduates) graduates lose sight of why they actually went into the course in the beginning, so you come out your broke unemployed and need to get money so you take the first job you can at tesco to support yourself and jobs such as this are easy to promote through so within a year or two you're a supervisor and a another year a manager leaves and your free to be settled into the career you didn't want, this happens because people become so focused on the money and the fear that they may never see money again that their lives are just about that. You have to push yourself to take on projects and ideas and create things outside of your money-making world in order to stay connected, for instance editing things for free, taking your camera everywhere with you, creating projects and following through on them.
Even something as simple as this writing a blog each week about the creative industry can become cathartic as it forces me to look whats out there look how my work compares how my life compares, am I still generating ideas am I still pushing myself to my over all goal, sure the over all goal may chance week to week but that's nothing to be ashamed of it simply means you have grown and found that you prefer one area of the creative world to another.
The only time you should be concverend is when your goal is so far removed from what your initial choice was that you're at a point where you have removed yourself from the creative world in order to achieve financial or family gain that is when you should worry about your ideas.
There is a fate worse than selling out, it's giving up completely.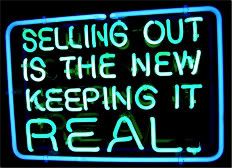 var _gaq = _gaq || []; _gaq.push(['_setAccount', 'UA-27892246-1']); _gaq.push(['_trackPageview']);
(function() { var ga = document.createElement('script'); ga.type = 'text/javascript'; ga.async = true; ga.src = ('https:' == document.location.protocol ? 'https://ssl' : 'http://www') + '.google-analytics.com/ga.js'; var s = document.getElementsByTagName('script')[0]; s.parentNode.insertBefore(ga, s); })();